Zoran Miserdovski

Zoran Miserdovski is the most intersting person that came in FC Vardar because he had troubles with Sloga who clams that his contract is not over.
He said that the conflict with Sloga must be solved in his favour and that he always wanted to play in the red-black jersey.

Esad Colakovic

On the press conference he said that he is happy because his is back in his parent club after six years playing in Sloga. He thinks that in cooperation with the new coach FC Vardar won't have troubles wining the national championship.

The new players for the next season are : Miserdovski, Colakovic, Memedi, Abazi, Beganovic, Karanfilovski, Gruevski, Veselinovski...
<click for more>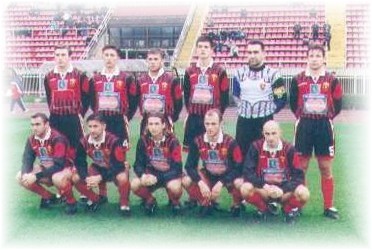 We are fans of FC VARDAR SKOPJE and we decided that the most popular Macedonian football club deserves to be shown on the Internet. This is an unofficial page and it's made by two great supporters of FC Vardar Skopje.
---
made by Kristijan Bangiev and Nikola Geskovski®™
any suggestions please sent on :
geskovski@yahoo.com
and kbangiev@hotmail.com
Most of the pictures were scanned by Zoran Jovanchev